IT & Business 2015 in review – our take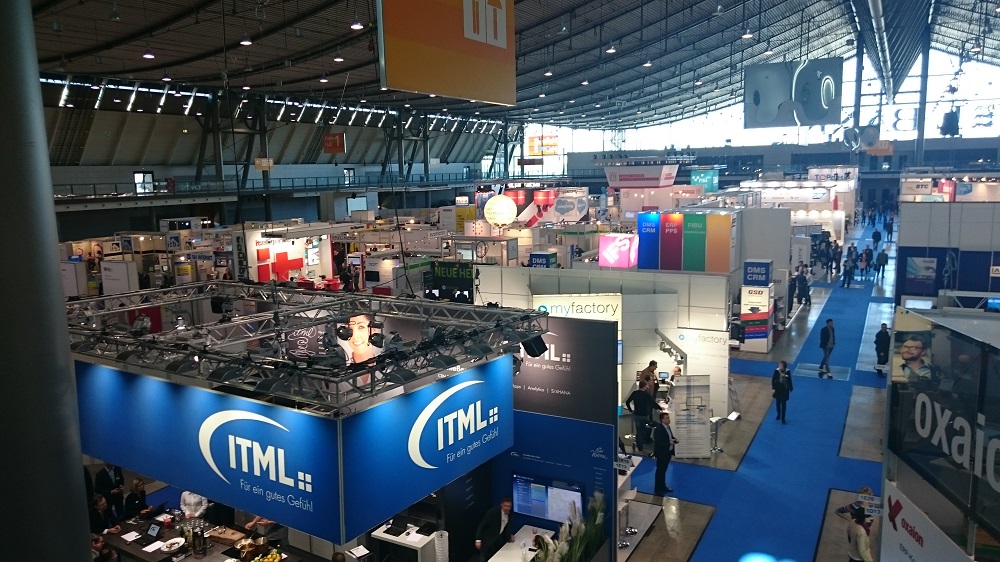 This year's IT & Business trade fair combined the DMS EXPO and the CRM-expo into a single event under one roof and filled Messe Stuttgart's largest hall. The organizers were pleased to welcome a total of some 7,500 registered visitors. This trade fair for digital processes and solutions ranks as one of the most important dates on the event calendars of those exhibitors and small to midsized enterprises involved in the fields of digitization or enterprise management content seeking a venue to present and share specific and detailed information about how companies can optimize their operating procedures.
Our take: mixed feelings as we look back
Again this year, and as expected, the fair was superbly organized and you could clearly see how professionally and well-structured the event was planned and executed. The organizers themselves gave the event a good write-up and emphasized how well the on-stage programs were attended along with the large increase in the number of first-time visitors. Overall the fair received clearly favorable feedback from the visitor survey.
It was during the second day of this three-day event in particular that we had the opportunity of going into further depth on a number of exciting issues with existing contacts, with whom we had arranged appointments in advance. We also managed to make a number of new and interesting contacts that may well lead to potential relationships. Nevertheless, we left Stuttgart with an only so-so impression.
When all is said and done we have to admit that the fair failed to live up to the expectations we had based on the impact that the event of four years ago made on us. The overall impression we took home from DMS Expo 2011 was vastly more positive and euphoric. Unfortunately, the level of excitement this year never reached that of 2011 even though our giveaways were hotly sought after – especially our LED yo-yos.
Three days of exhibiting seemed rather long, particularly in view of the fact that most of the time the large hall was sparsely populated. In our view, and following the merger of die DMS EXPO and CRM-expo, the trade fair is simply too broad, which gives the impression of it lacking a clear and specific focus.
webPDF & n2pdf product presentations at our IT & Business stand:

Up in the air: IT & Business 2016
The date has already been set for IT & Business 2016. Messe Stuttgart announced that the next fair will be held from 4 to 6 October 2016 (Hall 1 was booked for the two years). It is questionable at the moment whether we will be participating as an exhibitor at IT & Business in 2016 as we still have to fully review the results from this year.
Our video on IT & Business 2015 – a look through the exhibition hall: