webPDF now also available as 64bit editions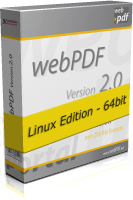 Get the maximum performance out of your webPDF – with the new 64bit Linux edition! Benefit from the elimination of the 32bit memory limits and use your webPDF more efficiently:
simultaneous conversions by activation of more converter instances
much larger files can be converted into PDF
optimal use of your Linux ressources
Furthermore, we also offer virtual machines (VM) of webPDF. Without the need of any configuration and installation webPDF is ready for use in only 5 minutes and can be easily integrated into existing IT structures. Here too we have developed a 64bit Edition, which guarantees you an even more efficient use.
Test the free demo version of our webPDF 64bit Linux edition today. You can find more information about webPDF as VM and the download here.