The n2pdf 7.0 release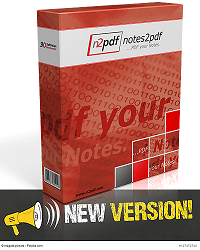 We're kicking off the fall season with our new release of n2pdf 7.0. This new version and its latest innovative features will be available starting 1 October 2018.
We put a lot of effort and attention into incorporating the kinds of improvements and features that our customers said they wanted, keeping in mind how these need to be practical and make working with n2pdf even easier and more convenient.
Version 7's key features – what's new?
New ways of using n2pdf with Microsoft Office. Fill-in forms – Now you can generate prepopulated forms including for orders, registrations and applications and transfer any IBM Notes content into existing PDF forms.
Use Microsoft Office for conversion. You can now convert file attachments from Word, Excel and PowerPoint directly from the native Microsoft Office application centrally on the server. n2pdf does this by using webPDF's Office Bridge functionality.
Add barcodes. This new release lets you access barcodes directly from your IBM Notes system and add them to your documents. This is just one example of how you can speed up certain workflows considerably.
Enjoy new n2pdf Archive Merger applications. This feature enables you to merge existing archives into one large archive. This capability was accomplished by expanding the n2pdf Archive Search & View program. You can also index folders and use Archive Search & View to display or make them searchable.
Apply enhanced settings when creating digital signatures. This latest release offers more options when applying electronic certificates, letting you decide the signature's position and size, or add graphics files (signature as an image) and choose where they're positioned.
Note:
We're always looking to optimize our software solutions and keep in close contact with our customers. We welcome and appreciate your suggestions and ideas, which you are invited to share with us by calling +49 661 25100-0 or sending an email to support@softvision.de.